Personal Passworder
Продвинутый менеджер паролей с надёжным шифрованием, который пришёл на смену простому «Парольщику».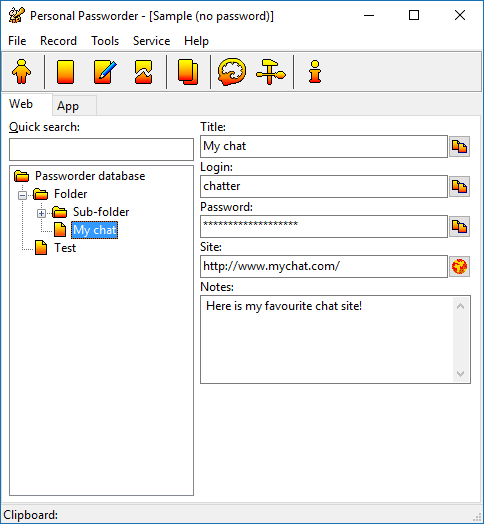 Программа изначально задумывалась как коммерческая, поэтому поддерживала много языков, умела хранить данные в древовидной структуре и даже позволяла для разных типов данных хранить разную информацию: например, для программ можно было добавить поля с серийными номерами, для кредитных карт — со сроком окончания действия и т.д.
С апреля 2016 года программа стала бесплатной и теперь доступна на этом сайте.
Загрузка
Скачать установочный файл для Windows
История версий
Версия 3.9.8 от 24.02.2008:
Now you can specify font size for dialogs, not just name
Correct window is now focused when switching back to Passworder
Font Segoe UI now has 9 pt height by default
Start window didn't restore properly from tray
Some translation fixes
Версия 3.9.5 от 27.07.2007:
Password generation can crash the program in very rare occasions
Program cannot be restored from tray if it was automatically minimized immediately after launching
Версия 3.9.3 от 13.03.2007:
Wrong toolbar button size set when button captions is on
Export in wrong file when path contained spaces
Previous copy didn't show up when launching second one
Версия 3.9.2 Christmas Edition от 29.12.2006:
Registration key problem fixed (we hope)
Версия 3.9.1 Christmas Edition от 07.12.2006:
Window restore bug fixed
Wrong working directory in shortcuts fixed
Версия 3.9 Christmas Edition от 22.11.2006:
Windows Vista compatibility (including Flip3D support)
Drag & Drop support added to field buttons in main window and in Bar
XP-style skins are now supported in older Windows versions
Account file (*.pwder) now has its own nice icon
Miscellaneous errors fixed
Версия 3.82 от 17.04.2006:
German language file added
Option 'Clear clipboard when exit' didn't work after File -> Exit command
Nodes were not expadned after search in some cases
Incorrect entry displayed after renaming entry via F2 key
Fields didn't cleared in some cases in modified groups
Save account file in wrong folder after using save/open dialogs
Версия 3.8 Christmas Edition от 01.12.2005:
Some speed improvements at startup and terminating.
Portable version maker allows you to build custom version to launch from portable device
Export to and import from CSV format added
Option added to minimize when idle for some time
Now you can click right mouse button on your accound in start up dialog and program will find your account file in Explorer
Scroll bar added to notes field in main window
Folders state (expanded/collapsed) were not saved during sessions
Non-standard fonts issues fixed.
Password field in login screen was not cleared after incorrect password entering
Non-existing accounts are not removing anymore during start up
Версия 3.73 от 18.08.2004:
Версия 3.72:
Версия 3.71 Christmas Edition:
Some fixes in documentation. No program changes for now.
Версия 3.71 от 30.06.2003:
Search and Favourites tabs added in Manual
Attachment files error fixed (we hope)
Problem with large fonts in Startup Wizard fixed
Версия 3.7:
Dialog for attached files management
Option 'Password generation for new record' added
Startup Wizard now can be re-sized
Password field will be cleaned when selecting another account
Now you can hide toolbar and status bar
Improved Excel export
Fixed problem with Read-Only files attribute
Fixed some small visual issues
Some small errors fixed
Версия 3.61 от 02.06.2003:
Версия 3.6:
Updated License Agreement
Finally fixed problem with restoring program from tray after minimizing it by keys Win+D or Win+M. Now double-click at tray icon restores program in any case.
'Stay on top' option moved to Service menu.
Some toolbar menu items were not translated
Some images were not updated after skin changing
Parameters in Find dialog were saved after 'Cancel' click
Option 'Highlight expired items' added
Color for expired records now can be changed
Uninstall feedback added (just one question)
Версия 3.51 от 02.05.2003:
Some bugs fixed
Site without http:// can now be launched
Версия 3.5 от 16.04.2003:
Program now became fully independent of installation. See manual 'Portable usage' topic for details.
Registration key now stored into pwder.key file
Program became even more smaller and faster :)
Small improvements in Language select dialog
More errors fixed
Версия 3.41 от 30.03.2003:
Версия 3.4 от 11.03.2003:
Program became a bit smaller and faster
Drag & Drop support
Root folder is now always visible
Now you can select record and press F2 to rename it
Data were not saved after performing Move command
Main window position didn't saved in Win9x
Версия 3.3 от 10.02.2003:
New tool for showing passwords hidden by asterisks
Startup dialog became more easier and convenient
Fixed some export issues
Fixed some issues with large fonts
Help didn't work in tray menu
Версия 3.21 Christmas Edition от 27.12.2002:
Now you can copy info into clipboard by using popup menu when click record in tree
It is possible now to use program without installing it on computer. Just copy few files (pp.exe, all .pskin files and Languages folder as well as your account).
To enforce Passworder to keep its data in current folder create empty file ppwder.ini in this folder. You can also copy this file from IniFile folder.
Версия 3.2 от 25.11.2002:
Export to XML
Ability to export Notes field
Custom symbols were always used for generation
Program didn't erase data when minimize to tray
Hot-key didn't restore program from tray
Версия 3.12:
Tree were not updated after performing Move operation
Records sometimes were marked as expired even if group didn't had Expiration Period at all
Offline Registration button didn't work
Path to Backup folder wasn't saved
Move command work incorrectly
Версия 3.11:
Significantly increased speed of tree-drawing
Stay On Top option were not saved
Groups bug (introduced in 3.1) were fixed
Версия 3.1:
First copy of Passworder will be activated when trying to launch second one
Options in dialog Generator not saved if dialog is closed by using button 'Paste It!'
Problem with Import feature fixed
Records from deleted groups were not deleted
Error appears after re-installing program in different folder than first time
Trouble with trial version fixed
Incorrect work of Move function fixed
Версия 3.0:
Program was completely re-written. Many old bugs were fixed (and of course some new bugs were introduced :) There are so many changes, so we decided to describe here only the major of them
Treelike stucture: you can add folders and subfolders
Passworder database associated with program, so you can now just click .pps file in Explorer and it will be opened!
Records can have expiration date
Group editor became much more easy to understand and use
You can now store binary data in database (various key files and even small programs!)
Passwords can be generated by using mask
Enhanced Bar. In future versions we plan to integrate it into Internet Explorer in Deluxe edition
Completely re-written Excel export and import. You can now export and import all groups also
Completely re-written Print function. You can set up title for report, switch off notes, it is also possible not to print all groups
Find function now may search text in all groups
And much more!
Версия 2.6:
Ctrl+Enter hot-key added in main window: it copies content of selected field (i.e. password) and makes selected next field
Latvian language added
Colours of Main Window changed to more logical in Windows XP
Bugs with toolbar fixed
Clear On Exit option didn't work on Re-login
Password confirmation was not required during Creating new account if Show Password option was enabled
Show Clipboard option is now off by default
Program checks password before asking about deleting account
Backup Account When Login option sometimes didn't work
Error message fixed when launch program and no accounts exist
Версия 2.5:
New style of Login window. Since this version we plan to change almost all dialogs to make their usage more simply and convenient
Custom images on buttons added. You can select your favourite skin and even draw your own!
Height of Notes field is now changed during resizing
Width of Bar (Ctrl+B) can now be changed
Enter and Shift-Enter are now working in Bar
Show Passwords option is now actual for whole program, not personal for each window
Passwords from clipboard are no more shown in status bar if 'Show passwords' mode is off
Several bugs fixed
Версия 2.2:
You can now replace glyphs in toolbar: just put toolbar.bmp in programs folder or rename toolbar-old.bmp into toolbar.bmp
Program can show clipboard content in status bar
You can check program updates in Help menu
Problem with big system fonts fixed
Size of Record Properties dialog can be changed now
Info is no more shown in main window while shut down
'Company' field in 'Apps' group added for new accounts
Fields' names is now exported in Excel too
Версия 2.1d Christmas Edition:
Print and Export features available in trial version
'Show passwords (F5)' parameter is saved properly
All folders now saved properly
Lauguage files updated
Help file updated
Версия 2.1:
New icons!
When you backup or restore file program will check for extension
Problem with backup file to itself fixed
Auto Backup is now enabled by default
Editions bug fixed
Acknowledgements in About (just wait 5 seconds)
Program no more checks password if you decided not to create new account
Splash screen (use /nologo parameter to avoid it)
Hidden groups is now hide correctly
Delete paths from registry when uninstalling
You can now print 1 to 10 columns per page
Two digits only now show in Margins fields in Preferences
Problem with new accounts agglutinating fixed
Components states in dialogs is now saved properly
Pressing Enter in Bar is now equal to button click
'Help' button (and F1 key) presents in almost all dialogs
Now you can export all groups
Import is now available in standard edition
Fixed problem with repeat sequences in Generator
Program can be minimized after copying information
Версия 2.0c:
Quick Search field is now works properly
Program is no more close after double-click on record list
Bug with data folder fixed
Ukrainian, Spanish and Hungarian languages added
Print, import and export functions is now available in evaluation version
Версия 2.0a:
There is only one file now for Std & Pro version
Bahasa Malaysia language file added
Button in Bar is working now
Empty passwords are no more asked when restoring from tray
Версия 2.0:
Program was completely rewrited from the very beginning. There are VERY many changes, so there is no descriptions.
Program now ships in two editions: Standard and Professional.
Program is no more compatible with previous versions. :(
Версия 1.2:
Print support
Camera sound now could be switched off
Camera shutter sound is now stored in separate file (Camera.wav), you could replace it by your own
Program couldn't find accounts when launch with Windows
Program is no more clear clipboard every X minutes if 'Minimize when idle' is checked
'Minimize when idle' is now disabled too when tray feature is disabled
Style of Preferences dialog changed
Backup and Restore function is now situated in one window
Hot key is now stored properly
'Notes' length is now limited (max 255 characters)
Program now could be launched in minimized state (/autorun)
Program could be minimized when starting with Windows
Merge function is now available for unregistered users too
Last used group is now saved when minimize program
Now you should make double click in tray to restore program
User manager window is now minimized in tray too
Acknowledgements in About dialog (just wait few seconds)
Now you can minimize program in tray instead of closing it
User Manager window is now correctly minimized when tray using is switched off
Now you can minimize program in tray instead of closing it
Acknowledgements in About dialog (just wait few seconds)
Registration dialog (not just site opened as before)
Program now closed correctly when it is minimized to tray and Windows is shutted down
Версия 1.1:
Quick Tour program
Merge function
Now you couldn't delete account without password
Style of About dialog changed
Icon improved
Program now ignore 'extra-clicks' on tray-icon when password prompted
Main window is hiding now when Bar activated
Only one copy of program could be run at the moment
Program crashes when you add more fields in group
Program crashes when you add some 'bad' number of records
Program could be minimized automatically when idling for several minutes
Added fields in group now have 'Normal' kind by default
Tab key in Record Properties window pass focus not in right controls
Pointer of current record now set to right record after deleting or moving
Program now save last used groups for all accounts and last used account
Shortcuts from main window may be used after error 'Wrong password' when restoring from tray
Password fields becomes active when you select account
Версия 1.0: